The HTT cycling training methodology applied to recovery from partial injury in the rehabilitation of the Achilles tendon
1 February 2021
---
The Achilles tendon is the strongest and thickest muscle in the human body but, despite its size, it is also the one most exposed to the risk of injury. There are several causes that can lead an athlete (cyclists, triathletes, mtbikers or runners) to face, physically and mentally, this type of injury, which can involve a thickening or a partial injury in the most fortunate cases, or a break in the most unlucky ones. Here's how the HTT cycling training methodology can be applied to recovery from partial injury in the rehabilitation of the Achilles tendon.
Recovery times from an Achilles tendon injury
Recovery times for an Achilles tendon injury vary according to the extent of the damage suffered. In the case of a partial injury – which usually involves not just the tendon but the tendon sheath (covering that protects the tendon) – recovery, meaning walking "normal" again, lasts approximately one and a half months, that is between the time in a cast and good physiotherapy. After that, an athlete's muscle tone can be restored within two weeks with a program that includes swimming sessions and workouts on the smart trainer.
In this regard it is good to remember that muscle memory rarely forgets. In the case of an athlete accustomed to training regularly, recovery times can be shortened even more. The HTT methodology can also offer valid support in recovering from an injury such as the one just described.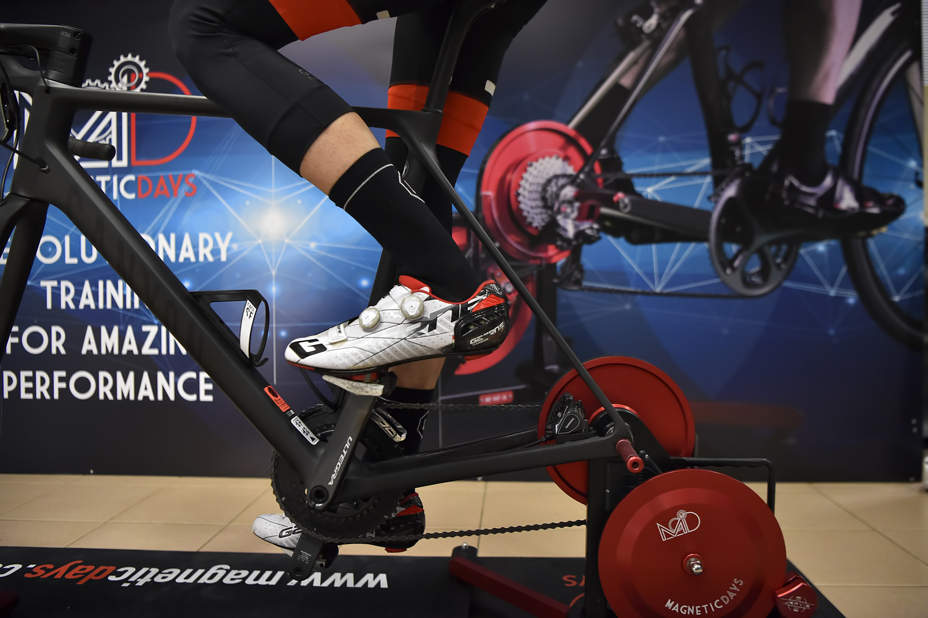 Rehabilitation exercises for the Achilles tendon: MagneticDays optimal tool for full recovery
The HTT methodology developed by MagneticDays currently represents the maximum scientific personalization of a workout because it is based on the continuous combination of Evaluation/Delivery of training loads and can be adjusted accordingly throughout the year. This means always providing the type of work required at any specific time and condition. Entirely calibrated on the athlete's real values ​​at that precise moment, the HTT methodology allows, in a few sessions, to go back to the state of form the athlete had prior to the injury and the appropriate threshold value.
"Returning to training after an Achilles tendon injury, even if partial – said the MD Head of the Technical Area Simone Buracchi – must follow specific steps. The athlete, who has been stationary for at least a couple of months, has to reacquire the physiological movement of pedaling. Before assigning specific exercises, we run both an incremental free pedaling test and the incremental Joule test. On the basis of the values ​​obtained and taking into account that we can have a loss of around 25% in terms of Watts expressed in threshold, the first exercises on MagneticDays JARVIS will be structured in crescendo, with the aim of returning in a short time to the values ​​expressed before the injury. The physical condition of the athlete and his ability to recover also play a fundamental role in the physical and mental response to every single session with JARVIS smart trainer. For athletes who use our indoor training system independently (i.e. without being followed by a Coach), MagneticDays self-calibrating workout, studied in collaboration with the University of Verona, is a very valid option in the delicate recovery phase. In practice, it is a series of protocols optimized to allow the user/athlete to perform a good workout when the optimal conditions for doing so are lacking. If the self-calibrating workout is performed well, it really becomes the most effective activity that can be done in this case, because it is a photograph of the athlete at that precise moment and the workout is adapted to his/her physical condition, accompanying him/her step by step towards a rapid recovery."