New track record for Colonel Carlo Calcagni with FORZA PURA independent bike cranks
1 June 2021
---
On Sunday May 30th, Colonel Carlo Calcagni established a new track record with FORZA PURA independent bike cranks, approved by the judges of the Italian Athletics Federation, at the Centro Polisportivo in Rivarolo Canavese (Turin). A sporting event that wanted to focus on issues related to sport for the disabled and also aimed at letting people know about the association "PIU 'GIRI PIU' VIVI – SPORT FOR ALL" (the more you ride, the more you live) which organized the Giro d'Italia Solidale, a non competitive triathlon race, composed of 47 stages, that allow people with disabilities to participate as athletes.
The story of Colonel Calcagni is inextricably linked to his love for his homeland. At the age of 28, in the mid 1990s, Carlo was already an experienced helicopter pilot of the Italian Army, deployed in the Balkans with the international contingent, under the UN peacekeeping operations. Assigned to the MEDEVAC (medical evacuation) service, he engaged in numerous recovery missions for wounded soldiers and civilians. During the course of these activities, he was exposed to heavy metal nanoparticles formed after the explosion of devastating devices. These heavy metal cells entered his body taking over healthy cells and impacting him both physically and neurologically. "Every day is a fight for life – the Colonel says – that's why my motto is NEVER GIVE UP".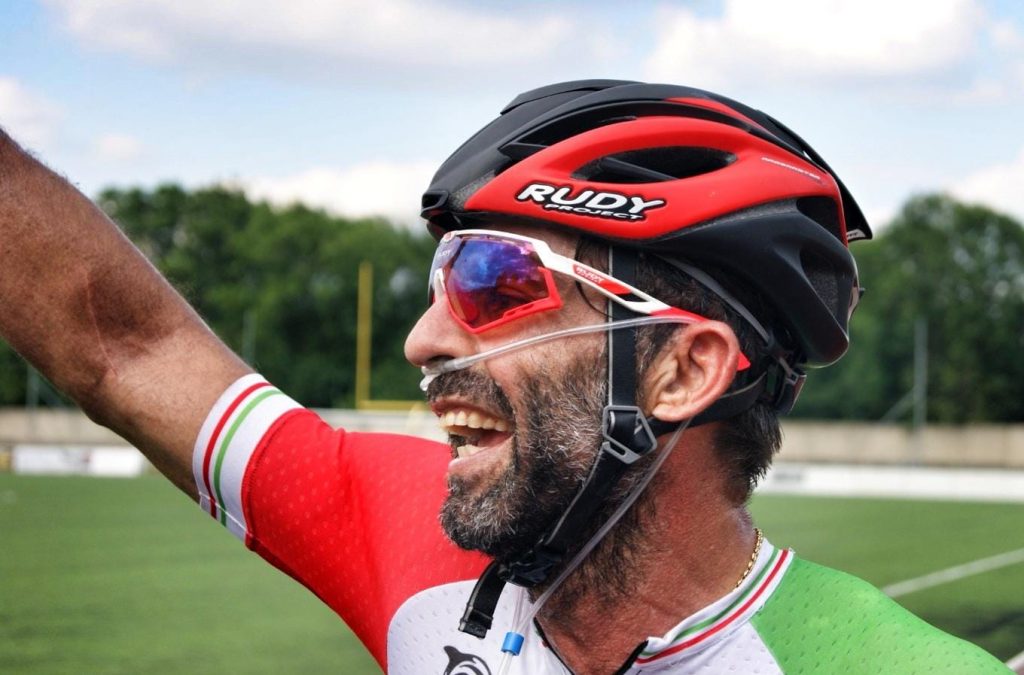 The record set this past Sunday in Rivarolo Canavese consisted in one hour of pedaling on his tricycle and the independent FORZA PURA MagneticDays bike cranks – completely independent from the bottom bracket. It was a personal success, and has even more value if we consider the many "hitches" to accomplish it: first of all it was done on the athletics track, which surface is not smooth and therefore not ideal for bikes; then the vehicle, a tricycle, which at high-speed risks overturning at any time; and finally the completely unlocked FORZA PURA independent bike cranks which require a significant muscle work, expecially protracted for 60 minutes.  To monitor the test and analyze the data was XSEOS "Technological Innovation" TEAM of Brescia led by Franco Boldi, a leading software company in the financial and health sector, that for over two years has developed a non-invasive system able to observe vital parameters of people, with the aim of improving their quality of life from all points of view.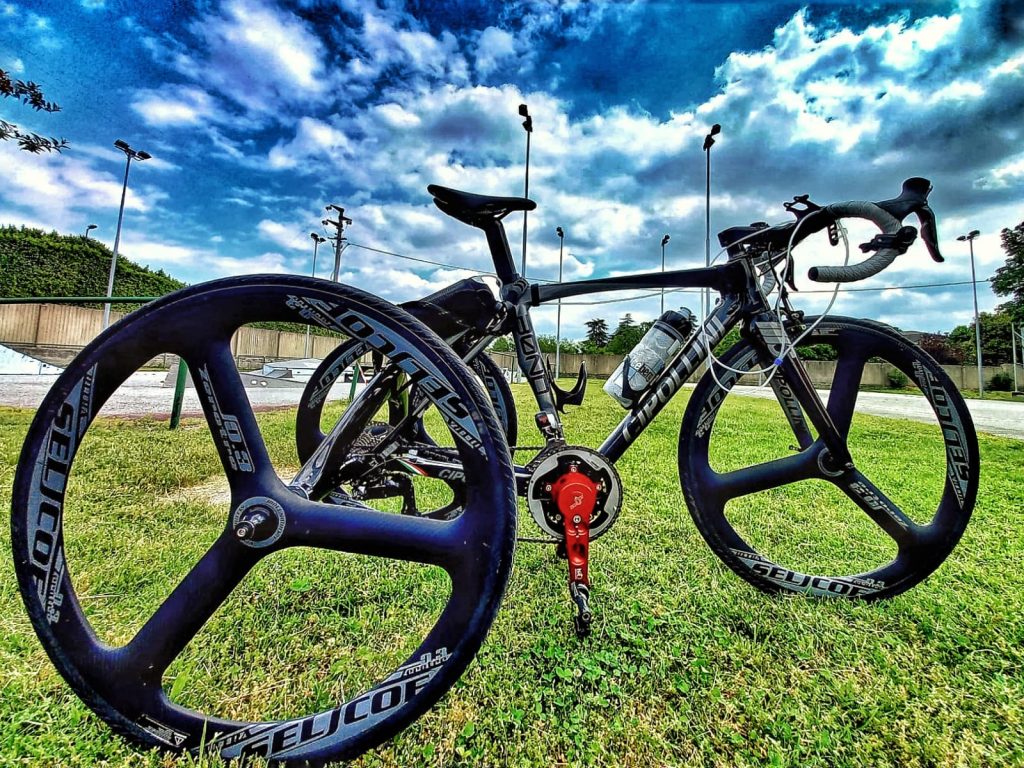 "It was not a struggle but a moment of absolute freedom – Colonel Carlo Calcagni said immediately after the test – I must also thank MagneticDays for supporting me with the innovative independent FORZA PURA bike cranks, a concentrate of technology capable of involving all muscle groups, significantly improving pedaling efficiency and offering the athlete a totally new way of perceiving pedaling, training muscle strength and, at the same time, mental strength. The peculiarity of FORZA PURA in my specific case, is to normalize my pedaling so that I don't feel the tremors due to sclerosis and Parkinson's".
Carlo Calcagni's tricycle was also equipped with the brand new "Tannus Airless" tires from Tannus Italia: airless bicycle tires that guarantee performance comparable to that of traditional tires. The innovative Aither 1.1 compound allows having a 100% puncture-proof bike tire without sacrificing performance and comfort. The President of the Piedmont Region, Alberto Cirio, personally congratulated the great champion, inviting the Colonel to return to Turin as soon as possible to set a new record and promote a further message of strength, courage and hope for all people living with difficulties.