Coach Andrea Gabba: "Quality Indoor Training is not a trend. It's a must!"
7 June 2018
---
Andrea Gabba is one of the most important Italian Triathlon Coach with a great experience at international level. Dedication, passion, working method and results are the fundamentals of his training phylosophy, because quality is the only way to obtain great results.
Palmarès of Andrea Gabba
Andrea Gabba is a young Coach with a fantastic palmarès: he is currently working as Coach of Italian Triathlon National Team Under 23. He coached two times the Italian Triathlon National Team at the Olympics Games (2004 and 2008) and he was the technical manager of Turkish National Team from 2013 to 2016 (getting the World Championship and European Olympics Games qualifications). Furhermore, Andrea was an Ironman also!
Hi Andrea! What does triathlon mean for you?
Triathlon, like my family, is my life, job and passion (I started in 1992 in Montecarlo) and for me and my wife Nadia Cortassa (5th place at Olympic Games – Athens 2004 and 2006 World Champion in team competition) triathlon is a lifestyle in terms of healthy values that we try to teach to our sons and athletes day by day. Triathlon means coordination, optimization, concentration, respect, love for nature, pay attention to itself and other people.
Swim, bike, run. Tre disciplines completely different that they become one. What is your approach to training in professional athlete and amateur respectively?
Regarding the professional triathlete I define the limits and contents and built tailor-made training programs for him. On the contrary, amateur has a life completely different as compared to a pro athlete: family, job and friendly relations are his priorities. He talks with me about time, goals and availability, and I must prepare the best possible built training program, in order to obtain the best results. Professional triathlete makes itself available wherease I make myself available for amateur. In any case, the goal is the same: optimize work for better performance.
Quality is a must for you. Whats is the role of Indoor Training in your planning? And how do you consider MagneticDays in your training plans?
Time optimization is the key for both professional triathlete and amateur. I have always considered indoor training as a must in my training plan during whole the year (I worked indoor only in the winter until recently). Fortunately, since I work with MagneticDays (the first Indoor Training System based on a scientific approach) I was able to convert my ideas into reality, offering high quality built training to my athletes during spring and summer also (at least twice a week), because there are specific workouts that are more efficient if done with this training system if compared to others on the road.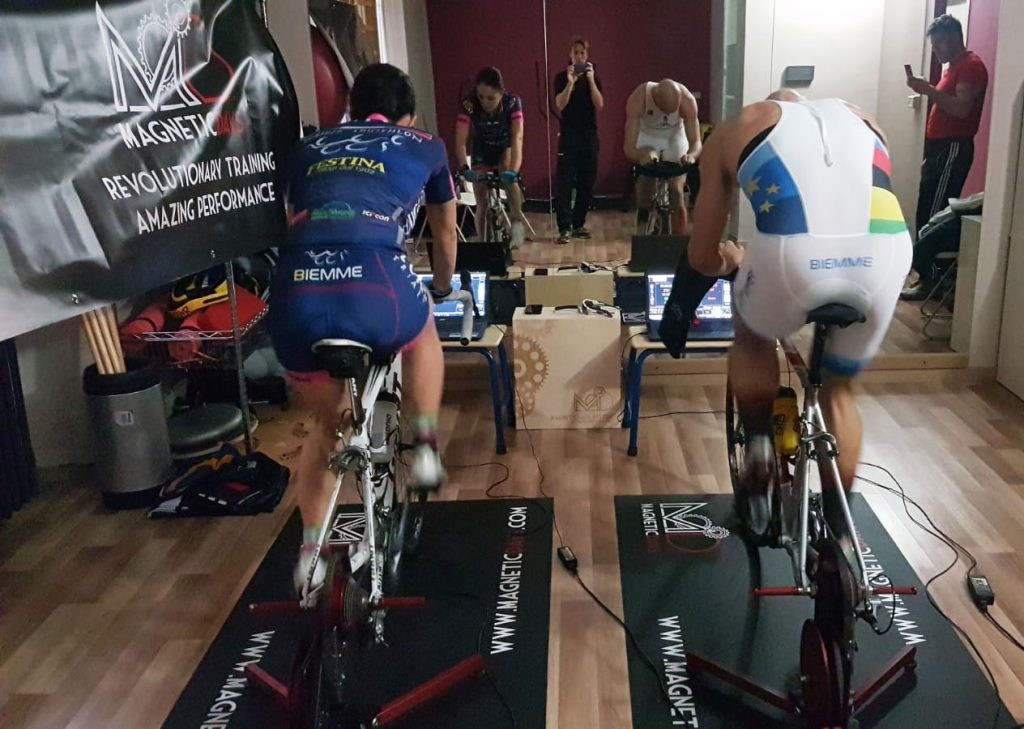 Bike strong to run strong. In terms of results, how MagneticDays affects the performance of your athletes?
MagneticDays is "more than a smart trainer" and my athletes have obtained great results. Each workout is planned in 3 phases on the base of specific physiological values of the athletes, so I can prepare the best possible training in order to reach our goals. Furthermore, MagneticDays is "no shortcuts", because we can work with Newton and RPM that can be controlled from beginning to end.
I am very much satisfied of MagneticDays because there are two great possibilities: create your personal workout (I invented a specific training for triathlon) or "pedal" on JARVIS System the most famous cycle route in the world (or your personal cycle route) as .tcx or .gpx file imported on your personal profile on www.magneticdays.com.
MagneticDays allows me to simulate any bike race course, setting the personal values of Watt for each athlete. So, I can work specifically on all of the race segments (start, jerks, race pace and more), obtaining great results. I work currently with international Pro athletes and MagneticDays is one of my personal fundamental points..
Here's the advice by Coach Andrea Gabba
My personal advice for all triathletes is: "MagneticDays allows you to optimize your time and training in the best way, giving you the chance to improve yourself under each point of view.. if you try it, you love it."