The new Coaching Cube Software by MagneticDays for indoor and outdoor training plan is born!
22 July 2022
---
With the advancement of technology and in order to meet the numerous needs of our coaches, MagneticDays has added a fundamental piece to its mosaic and expand the horizons of training plans. From the concept of the Cyber Test Software, the now famous program created by MD engineers and coaches for writing customized HTT workouts, MagneticDays takes an important step forward with the creation of Coaching Cube Software, the new platform completely online and usable from PC, Mac, tablet and smartphone. How to use it? It's simple: all you need is an Internet connection. Coaching Cube represents a huge step forward from many points of view. You can already understand it from the name, "CUBE", a way of training in three directions: Outdoor, Indoor and MagneticDays Philosophy.
Coaching Cube Software, FEATURES & ADVANTAGES
Coaching Cube is the unique software designed on the needs of coaches, to scientifically train both indoor and outdoor athletes. Among the main features and advantages we mention:
. it works on the MD site, therefore compatible with all browsers and on any operating system;
. possibility to be used from a PC, Mac, tablet or a smartphone;
. constant and immediate updates;
. simultaneous use with two different accesses;
. unlimited number of users to manage;
. possibility of writing indoor workouts (.FIT) to be performed on any smart trainer;
. use of all indoor work management options with JARVIS smart trainer;
. management of 8 types of tests for indoor and outdoor* with detailed and customizable analyzes and reports for each test;
. comparative analysis of values obtained from multiple tests for an accurate evaluation of the athlete;
. possibility of writing an outdoor workout for different disciplines and sending files on various platforms (ex: Garmin Connect);
. receiving feedback of the workouts performed with subsequent analysis and reports;
. writing training plans;
. possibility of using the KUBIOS analysis on cardiac variability in dynamics to obtain information on recovery.
* (Incremental Power Test, Power Cadence Test, Wingate Test, Lamberts Test, FTP Test, Joule Test, Mader Test for Indoor cycling + Outdoor swim and run)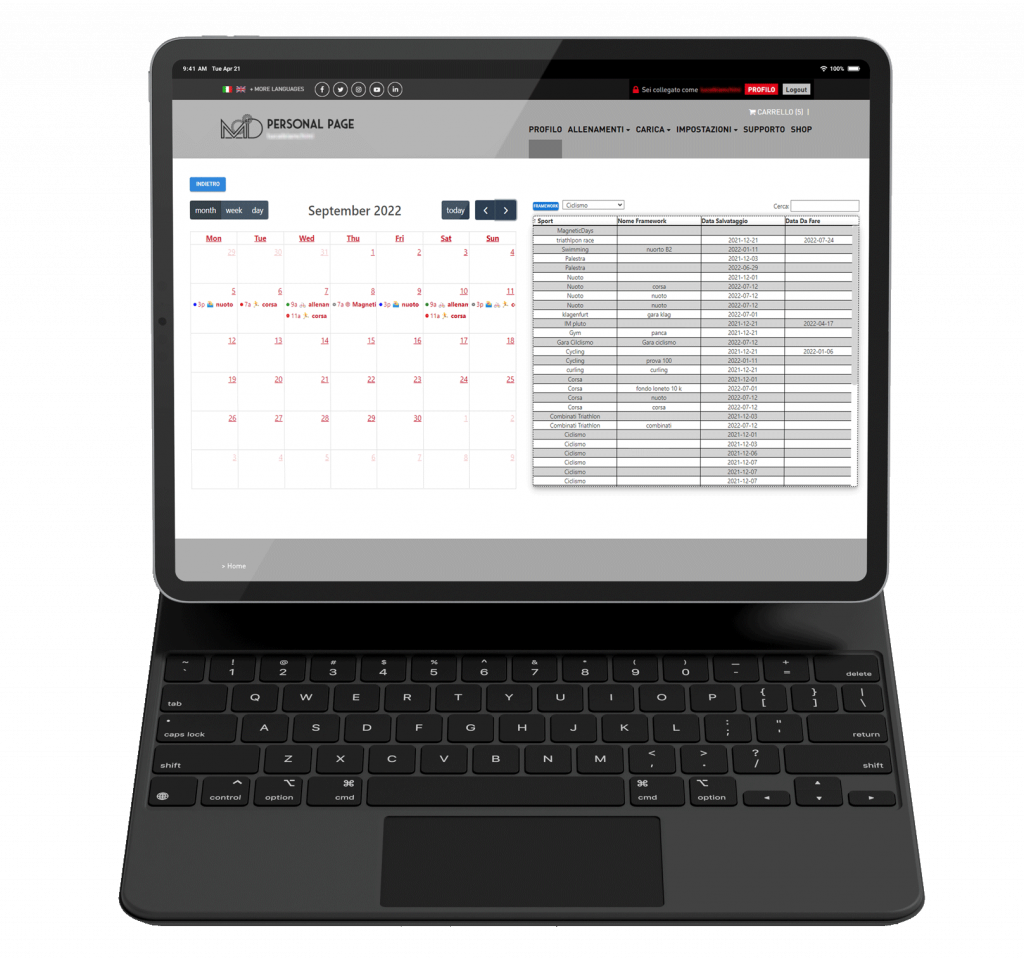 Among the innovations of the online Coaching Cube Software, you have the possibility to write an outdoor workout for cycling, triathlon and combined, swimming, gym and much more. An option that makes Coaching Cube software more powerful than the most popular ones on the market. But there is more: every outdoor workout can be customized just like the indoor ones by entering the values of each individual user / athlete. There are many practical possibilities for coaches in terms of data, training management and compatibility: from creating a monthly planning to providing a .pdf with selected workouts, to being able to preview  the intensity of each workout and pre-determine the workloads of each user / athlete. In short, it is all the experience of the MD coaches at the service of those trainers who want to offer both an indoor and outdoor service, tailored to the most varied needs.
Coaching Cube, INFO & COSTS
The Coaching Cube online Software is managed only by subscription for € 39 per month including VAT and is totally free for athletes.
For the coaches there are no additional costs, just create a free account on the MagneticDays website to take advantage of the cloud data exchange system and have everything in a single space, simplifying management and reducing writing times and communication with the user. Furthermore (it's not a small thing), the subscription can also be activated only in the periods of acutal  use (eg: 1 month, 2 months, etc.) and has no limits in the number of athletes to be managed, because they are assigned at the time of registration after entering the Coach code.
The company (upon reservation by mail or telephone) is available via ZOOM every Monday, Wednesday and Friday at 3pm for detailed information about the platform. For the use of the software, online courses will be available that can be purchased in the MagneticDays website shop.